Looking for ways to easily increase fans on Facebook?
It's as easy as a text message! Anyone who has enabled Facebook mobile with their Facebook account can simply send a text to Facebook's short code 32665 (FBOOK).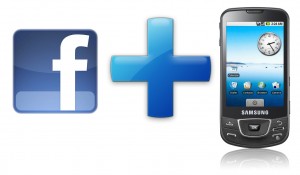 Your customers can "Like" or "fan" your Facebook page by simply texting the message "like yourcustomurl" to Facebook's short code 32665 (FBOOK). It's that easy!
This feature can be very useful in driving traffic to your Facebook page through other advertising and marketing materials such as print ads, TV ads or radio spots.
In order to have this functionality, your Facebook page must have at least 25 fans. This was recently changed from the 100 fan requirement.
Have 25 or more fans, but no custom url on Facebook yet? Simply go to http://www.facebook.com/username.
Click set a username for your pages.

Select the page you want to set a username for. Based on the status of the page, you will be presented with one of the following when you select the page:
This indicates that you do not have 25 fans yet, and therefore, your page is not eligible to have a username created at this time.

This indicates the username has already been set, and cannot be changed. It will provide your custom url for you to reference if this is the case.
If you have enough fans, and your username has not been set, you will be prompted to set your username:

Enter in your desired username and click check availability. Facebook will then determine if your selected username is available or if it has already been claimed as a vanity url or by another Facebook page.
If your selected username is available, you will receive the following message: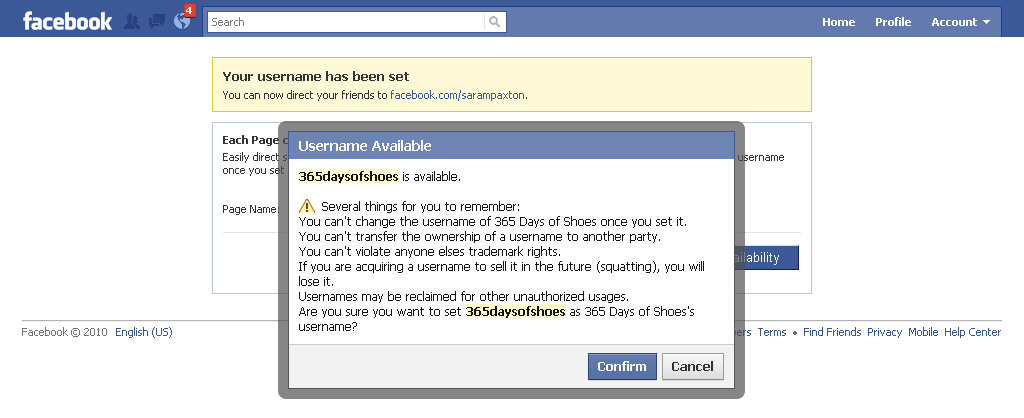 Double check your spelling and confirm that this username is consistent with other marketing naming conventions i.e. Twitter username, YouTube channel, and domain name to ensure brand consistency across multiple social networking channels.
You cannot reverse this after it is set. If you need to change it afterwards, you will have to start over with a fresh pages, and be forced to try and migrate your fans.
Once you've reviewed your username and confirm it is correct and consistent, click confirm.
You will receive a confirmation message indicating to direct your fans, current and potential, to your new custom Facebook url.

Don't have Facebook Mobile enabled?
Here's how you can set it up.
Log in to your Facebook account. Go to facebook.com/mobile

Click sign up for Facebook text messages.

Select your country and your service provider (i.e. Sprint, Verizon). Click Next.

Activate Facebook Texts by sending a text message containing only the letter "f" without quotes to 32665 (FBOOK)

Enter your activation code to activate Facebook texts. Enter the code in step 3. At this prompt, be sure to deselect "Add my cell number to my profile" if you do not want this visible to your friends and others on Facebook.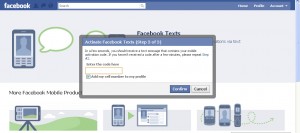 After you have enabled Facebook mobile, you can text your status updates to 32665 (FBOOK) and fan Facebook pages by texting the custom url to 32665. Here's our example: Text "fan evansmediagroup" to 32665 to fan our Facebook page.