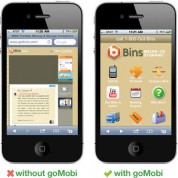 Make Your Website Work Great on Mobile Devices
67% of mobile visitors are unlikely to return to a site if they had trouble.
With Evans Media Group's mobile site builder, you can create a great mobile experience for your customers from any mobile device.
Faster load times

Easier navigation

Clean professional look

Consistent branding
 Features:
 Find us – Show your customers where you are located using the reliable Google Maps plugin.
Video – Automatically converts and optimizes your video for any device.
Products – Highlight your products and add a shopping cart so customers can purchase from the site.
Reviews – Let customers read business reviews that have been added to Yelp and Foursquare.
Forms – Create forms to suit your business.
Twitter – Display your Tweets on your mobile site, automatically updates.
Full website – Add a link from your mobile website to your full website.
Image gallery – Publish high quality images to your Evans Media Group mobile website.
More features:
Call Us – One click for your customers to call you.
Coupons – Your special offers
Leave a message – Customers can leave a message requesting more information.
Booking requests – Let your customers request a reservation.
Tell a friend – Get more traffic when visitors send a message with a link to your site.
Keep me informed – Maximize contact with your customers. Get opt ins for email and text messages.
Your news – Share your news.
Call back – Customers call leave messages requesting a call back.
Blog – Share your blog.
Opening hours – Tell customers when you are opening for business.
About us – One click and customers can find out everything they need about you and your business.
Unlimited pages – Add pages to highlight additional content.
Services – Share information on your services to help convert more leads.
Event Calendar – Publicize your events using your Google calendar feed.
Legal – Don't forget to share the fine print.
Site translation – Allow your mobile site visitors to select the language of their choice.
Facebook – Drive buzz about your business by giving visitors access to your Facebook page right on your mobile site.
WYSIWYG editing – Simple and stress free content editing using the friendly WYSIWYG Control Panel tool.
Customize the site – Upload your company logo and change your site's aesthetics and design as desired to suit your brand.
Mobile/desktop site redirection – Directs according to the device requesting access.
Device detection – Viewed flawlessly across thousands of mobile devices.
Full transcoding – Adapts website content seamlessly.
Analytics – Know where your traffic is coming from and where they're visiting.
QR Codes – Promote your site with automatically created marketing flyer and QR codes.
Check in – Support for Foursquare, Yelp, Google Places.
Create Links – Create a link to any other web pages that will compliment your business.
Upload Custom Icons – Offers ability to upload custom icons for each feature.
Smartphone bookmark icon – Upload a bookmark icon that customers can use on their smartphone home screen.
Site preview – Live site preview so you can see edits to the sites as you make them.
Keywords – Add specific keywords to each feature to improve ranking in search engines.
Site sharing options – Driving traffic by posting your site URL to Facebook, Twitter or by emailing it.
Multiple design templates – A variety of mobile templates to choose from to customize the look and feel of your site.
Multiple icon sets – Select from a variety of icon sets to customize the look and feel of your site.
Still have questions? Read what Google has to say about the rise of mobile.