Twitter has become ubiquitous with sharing information through social media. In fact, according to a recent post on their blog, Twitter shares that nearly a quarter of all Tweets include a link.  One of the common complaints surrounding Twitter is the work that is required to share information in the form of a Tweet.  Copy. Paste. Shorten the link. Bouncing around between multiple browser tabs. Twitter thinks that this is simply too much work, and in a wave of recent improvement tactics to gain momentum with their social network, they have launched their Tweet button today to simplify things. The new and fancy Tweet button is designed to let you share links directly from the page that you are on.  When the new Tweet button is used, a Tweet Box will be displayed, conveniently pre-populated with a shortened link that directs others to the item that you've opted to share.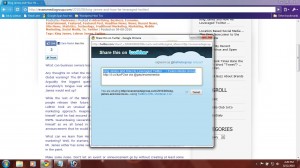 After you have shared your tweet, Twitter may offer suggestions for new accounts to follow. These are related to the website that you've just shared content from, and could include a news outlet or the reporter of the article that you shared.
Check out the video shared on Twitter's blog today.
Twitter claims that the Tweet Button is simple for users of all sizes and volumes, from the individual user to publishers, the recreational blogger to the large media companies that are starting to splash in the Twitter stream. Twitter has simplified the process and offers links to the code for a simple and easy installation. And they recommend installing the code to increase traffic to a blog or website and to increase your Twitter following.
The new Tweet Button is different than other third party buttons on blogs, news sites, and other places that let you share content on Twitter. TweetMeme is one of the most recognized buttons out there with their ever popular Retweet button.  Twitter is working closely with TweetMeme on the Tweet Button, and the Retweet Button will now point to the Twitter Tweet Button.  Visit Tweetmeme's blog to read their announcement regarding their involvement on the Tweet Button project.
The Tweet Button was launched today, but already has support from a number of popular and highly trafficked sites.
Here are the sites included in Twitter's announcement though we expect this to grow rapidly in the first few hours and in the coming days.
AddThis
Arizona Republic/azcentral.com
Ask.com
CBS Interactive
CNN.com
Cracked.com
Detroit Free Press
eHow.com
Eventbrite
Gawker Media
HuffingtonPost.com
Hulu
LIVESTRONG.com
Redfin
SFGate.com
ShareThis
Sky News
The Cincinnati Enquirer
The Des Moines Register
The Indianapolis Star
The Onion
The Tennessean
Threadless
TIME.com
TV Guide
USA TODAY
WordPress.com
WUSA 9
Yardbarker
YouTube
Like this post? Try out Twitter's new Tweet Button and share it!