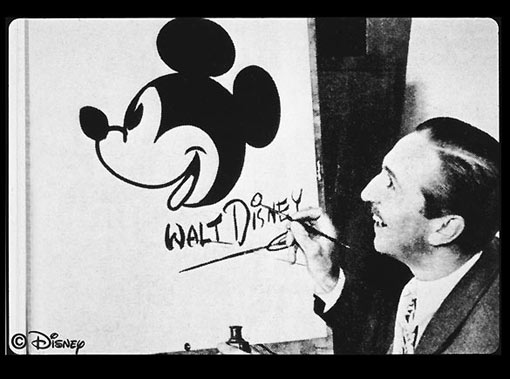 "I hope that we never lose sight of one thing: that it was all started by a Mouse." – Walt Disney. We remember these famous words on 80th Mickey Mouse birthday.
On this day 80 years ago, the scrawny little mouse broke onto the scene with his first film Steam Boat Willie, On November 18, 1928 Mickey's debut was showcased in a colony theater in New York City. It was a great hit and thus the date was officially declared to be Mickey Mouse's birthday.
The image of a mouse came to Walt Disney in early 1928, on his train journey back to Los Angeles when he was requesting a larger budget for the popular Oswald series from Charles Mintz of Universal Studios. In order to secure the funding, Mintz told Disney he'd have to go on the payroll and agree to a budget cut.  Walt Disney said, " Mrs. Disney and I were coming back from New York on the train and I had to have something I could tell them. I've lost Oswald so, I had this mouse in the back of my head because a mouse is sort of a sympathetic character in spite of the fact that everybody's frightened of a mouse including myself."
The Mickey Mouse character was created by Walt Disney and Ub Iwerks and voiced by Walt Disney in an effort to start over and after he fulfilled contractual obligations for Mintz and Universal Studios for Oswald.  Walt Disney started building the character in his imagination with red velvet pants and named him 'Mortimer'. He based the mousy character on a pet mouse that he used to have on his farm in 1925. Working off of some old sketches in 1925, the new mouse was created and luckily, Disney's wife, Lillian convinced him to change the name and 'Mickey Mouse' came to be.
After the first hit movie, which is now claimed as Mickey Mouse's birthday, it did not take long for the cartoon to gain popularity and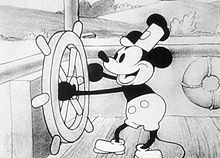 Walt Disney received Oscar for his creation. Though the premier of Steamboat Willie is celebrated as Mickey's birthday, he actually was in a film 6 months earlier called Plane Crazy.  Steamboat Willie was the first Mickey Mouse cartoon with sound.
Mickey got it's first makeover n 1935 by an young animator named Fred Moore. Till then the mouse was drawn as circles which restricted it's movement. He gave him the pear shaped body, big pupils, white gloves and shortened nose. This made the mouse look cuter. The first person to do the voice over for Mickey was done by Walt Disney himself and then it was Jim Macdonald.
Disney said, ""We felt that the public, and especially the children, like animals that are cute and little. I think we are rather indebted to Charlie Chaplin for the idea. We wanted something appealing, and we thought of a tiny bit of a mouse that would have something of the wistfulness of Chaplin — a little fellow trying to do the best he could. When people laugh at Mickey Mouse, it's because he's so human; and that is the secret of his popularity. I only hope that we don't lose sight of one thing — that it was all started by a mouse."
The anthropomorphic mouse has evolved from a simple character in animated cartoons and comic strips to become one of the most recognizable symbols in the world. He has still be found as the face of Playhouse Disney and the leader of the Mickey Mouse Club, which served as an educational show long before the beloved Sesame Street and served as an introduction to the alphabet for many with the catchy tune M-I-C-K-E-Y M-O-U-S-E.
On 18th November 2010, Mickey Mouse's 80th birthday, we still remember him in his vibrant clothes running about and charming the viewers. He looks a little different as with advances in digital animation, he has been able to put on some weight . In 1940, he was given pupils in his eyes, a Caucasian skin colored face and a pear-shaped body.  In the 40s, he wore his trademarked pants for the last time, and also lost his tail.  This is also when he received his characteristic ears. These changes didnt last any longer than his eyebrows as they were added in the 50s and then removed in more recent cartoons.
The two most recognizable attributes are his ears, two very round ears attached to a very round head and have the unusual characteristic of always being viewable with symmetry regardless of the direction that his head is facing.  Mickey's shy falsetto voice is a large part of his screen persona and is an aspect of the character that  Disney took great pride in.
Mickey Mouse still serves as the main character in The Disney Channel's Playhouse Disney series  Mickey Mouse Clubhouse. In late 2009, The Walt Disney Company announced that they will begin to re-brand the Mickey Mouse character by moving away from his pleasant, cheerful image and reintroducing the more devious side of his personality, starting with the Epic Mickey, a collaborative effort between Walt Disney Animation Studios and  Pixar.
Happy 80th Birthday Mickey Mouse!