In a look at the colors of the online spending rainbow, ComScore reported the holiday season retail e-commerce spending for the first 43 days of the November – December 2010 holiday season. To date, more than $23.82 billion has been spent online, which is a 12 percent increase versus the same time period for 2009.  The week ending December 12 surpassed $5.31 billion in spending, an increase of 12 percent in comparison to the same week in 2009. Monday, December 13, known as "Green Monday," which falls on the second Monday in December and when spending historically peaks, reached $954 million in spending, again showing a steady 12 percent increase versus last year.
2010 Holiday Season To Date vs. Corresponding Days* in 2009
Non-Travel (Retail) Spending
Excludes Auctions and Large Corporate Purchases
Total U.S. – Home/Work/University Locations
Source: comScore, Inc.

Millions ($)
2009
2010
Percent Change
November 1 – December 13
$21,321
$23,815
12%
Thanksgiving Day (Nov. 25)
$318
$407
28%
Black Friday (Nov. 26)
$595
$648
9%
Cyber Monday (Nov. 29)
$887
$1,028
16%
Green Monday (Dec. 13)
$854
$954
12%
Week Ending Dec. 12 (Dec. 6-12)
$4,744
$5,308
12%
*Corresponding days based on corresponding shopping days
(November 2 thru December 14, 2009)
Green Monday was coined by eBay to describe their best sales day in December, but comScore defines it a little more specifically as the Monday with at least 10 days prior to Christmas. In 2009, $854 Million was spent online in the US on Green Monday. Green Monday is gaining in recognition as it is the second heaviest online spending day on record behind this year's Cyber Monday.  Online spending should be expected to continue through Friday, December 17, which has been deemed Free Shipping Day.  Green Monday has been a reliable contender in years past but in more recent years, as consumers gain more confidence in retailers and shippers making good on their guarantees of on time Christmas gifts.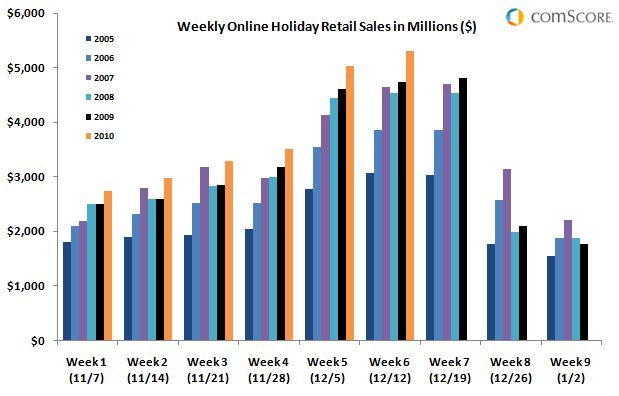 [poll id="3″]
[poll id="2″]