Tweet
Beware of a recent Facebook virus that we've seen circulating online beginning early today, Friday, June 25, 2010.
It will arrive as a message in your inbox on Facebook and will include a link.
Immediately delete this message and do not click on the link. If you receive this message, you should notify the individual so that they can change their password and make an update to their friends not to click on the link and that they have been hacked.
Here is an example of the message that is currently being sent out through Facebook messaging: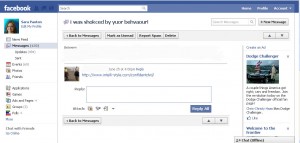 Still have questions about how to handle these issues? Feel free to leave a comment or contact us for more information.