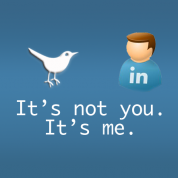 Today, LinkedIn began emailing its members regarding changes to how you can incorporate and tweets into your LinkedIn profiles. Around the time that Twitter began going mainstream, LinkedIn began allowing you to update your profile with tweets without any effort past the initial set up and authorization of the third party application.
Third party applications allow you to connect many applications such as Hootsuite, Facebook and more to enhance your experience and make it easier to read and send tweets. Here's an example of the screen you see when you are prompted to authorize a third party application: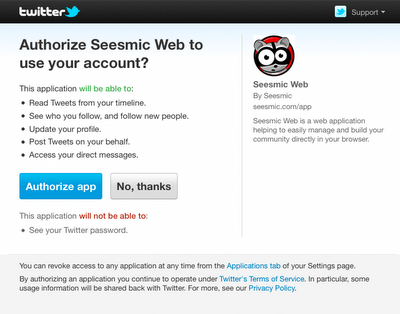 In a post from Twitter in May of 2011 titled Mission: Permission, the popular social network stressed the need for more control for their users. Here's an excerpt from their original post:
More Control: Beginning today, we're giving you more control over what information you share with third-party applications. Apps that you use to access your direct messages will ask for your permission again. By the middle of June June 30, applications that do not need access to your direct messages will no longer have it, and you can continue to use these apps as usual.
Not even a year later, they flip-flopped and issued a statement to third-party developers to stop building conventional Twitter client applications. Claiming a desire for "more consistency" for their end users, Twitter began seeking to take back control in all contexts. Left in the dust are all of those services that Twitter users have come to know and love. The services that made Twitter bearable in the early stages when the Twitter interface was cumbersome and a challenge for any newcomers.  Many of these third party services were instrumental in popularizing Twitter, but serves as a good lesson of building anything that is controlled by a single entity.  Given that 90% of all Twitter users leverage Twitter's own client, rather than a Seesmic or Tweetdeck, Twitter claims maintaining consistency and controlling the ecosystem makes usage and adoption of the service less "confusing" for their end users.  Ryan Sarver of Twitter's platform team wrote:
We need to move to a less fragmented world, where every user can experience Twitter in a consistent way. This is already happening organically–the number and market share of consumer client apps that are not owned or operated by Twitter has been shrinking," wrote Sarver. "Developers ask us if they should build client apps that mimic or reproduce the mainstream Twitter consumer client experience. The answer is no.
Essentially, Twitter swiftly and solidly shut the door on the developer community. There was an outcry among the community, with many feeling that this step was aggressive and hostile and the only thing that seemed consistent here was Twitter's continued efforts to alienate third-party developers that have worked tirelessly to make the platform what it is now. Twitter's behavior has magnified the uncertainty of building businesses linked to these huge social networking sites. It's a huge risk for any company to delve into the API-based business model, which places a company at the mercy of a platform provider.
Twitter issued that death knell for third-party developers about three and a half months ago. Many speculated on what the next victim of Twitter termination would be – url shorteners like bit.ly and image and video hosts such as yfrog, Instagram and the like.
After many changes to their third party authorizations and applications since the initial relationship in 2009, changes announced today have resulted in a disconnect between Twitter and LinkedIn.  As of today, you will no longer be able to send updates from Twitter to LinkedIn. Here is the email that was released to members today, citing limitations with the third-party applications yet again as the source of the issue:
LinkedIn and Twitter have worked together since 2009 to enable you to share your professional conversations on both platforms. Twitter recently evolved its strategy and this will result in a change to the way Tweets appear in third-party applications. Starting today Tweets will no longer be displayed on LinkedIn.

We know that sharing updates from LinkedIn to Twitter is a valuable service for our members. Moving forward, you will still be able to share updates with your Twitter audience by posting them on LinkedIn.

How can I continue to share updates on both LinkedIn and Twitter? Simply start your conversation on LinkedIn. Compose your update, check the box with the Twitter icon, and click "Share." This will automatically push your update to both your LinkedIn connections and your Twitter followers just as before.

What changes can I expect to see on LinkedIn? Any conversation you start on Twitter will no longer be automatically shared with your LinkedIn network, even if you synced your LinkedIn and Twitter accounts.

If you would like more information about what this means for your synced LinkedIn and Twitter accounts, please visit our related Help Center topics.

Thank you,
The LinkedIn Team
This change could increase the use of LinkedIn by business users that leverage social media for their communications and for connecting with other professionals. It could actually decrease the number of tweets on Twitter as many end users are still more comfortable with the format, layout and familiarity of one of the oldest social networking sites around, LinkedIn. With the exception of the recent security issue that leaked over 6.5 million passwords, LinkedIn is a much more stable social network historically than Twitter, though Twitter has faired better over the past year, if you ignore the blip they experienced last week.
We are still partial to leveraging Hootsuite because of the ease of use it provides in managing multiple social media accounts with multiple users. The analytics are useful as well and they are a very reliable service. Feel free to leave your thoughts in the comment section. Would you want to give up your third-party application? Which do you prefer to use – Twitter or a third-party application such as Hootsuite, Tweetdeck or another?