What can business owners learn from LeBron James?
Any thoughts on what the most active water cooler buzz was about recently? World events? Global warming? The BP oil debacle? Not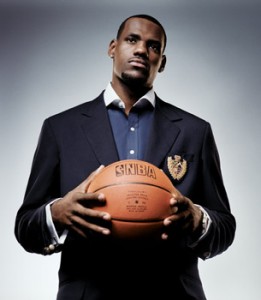 so much … Arguably the biggest question on the tip of everybody's tongue was where NBA all star LeBron James would end up?
While the rest of the NBA's free agents had their people release their future plans to the media, LeBron took an unusual and heretofore untried marketing approach. Keeping his final choice to himself until he had secured an hour-long special on ESPN. Guaranteeing viewership for the network and himself as we all tuned in for the much awaited announcement that he would be headed to Miami.
What can we learn from His Royal Highness about marketing? Well, for starters, we have learned that Mr. James either has some very wise council, or he is in fact just as skillful in business as he is in the paint.
Make some noise. Don't let an event or announcement go by without creating at least some buzz about it. Some say that James went too far by turning his announcement into a one man circus. We disagree; in this case, the showboating was a perfect fit for a man who says he wants to be the first sports billionaire. His antics created tremendous buzz, not only for him, but for the NBA, Miami Heat, the City of Miami and ESPN.
How does this relate to your business? Consider how you can take a non-typical approach to a new product, company announcement or promotion and spin it in a way that generates buzz and sets it apart your competition.
Make a difference. LeBron James actually gave all the proceeds of his event to the Boys & Girls Clubs of America. Think about your event or promotion and partner with a charity or organization that makes sense. Giving a portion of your sales can gain additional publicity, while helping others in the process.
Earn some friends. LeBron James started a Twitter page and gained 250,000 followers in 24 hours. He is currently at over 585,000 followers and growing and interacts with fans on a regular basis. Consider ways to incorporate social media tools into your marketing mix to build your own fan base.
LeBron James has undeniable talent on the basketball court, but has also shown amazing skill in marketing. While none of us can mirror LeBron's superstar sports talent, we can certainly apply some of the tools he has used to rocket himself to success in business. Start working on your game plan, ask for help if you need it, but above all do something different to see a different result.